The NFL Draft is right around the corner, so it's about time to start locking in some bets for the first part of the 2021 NFL season. As some of you probably already heard, the Draft is supposed to start at position #3 this year, as we already know that the Jacksonville Jaguars will be taking Trevor Lawrence with #1 overall pick, and the New York Jets will draft Zach Wilson with their #2 spot.
For me, the Draft actually starts at #4, this year. I am 99% sure that Mac Jones will go to the San Francisco 49ers, based on the latest reports and Kyle Shanahan's QB history. I will give you some pointers on what you should look out for when it betting on the Draft, while also giving you my best 3 picks for this week's event.
First of all, you have to understand that there is no "sharp money" involved with the NFL Draft. You might have heard this term thrown around in the last couple of weeks for NFL Draft betting, but just so you know, it's complete nonsense. It's the one sporting event that the sharps, or even the bookies don't have any kind of advantage over us, the regular bettors. Why? Because they place their bets, or create the lines based on the same information and rumors we have access to. The NFL Draft is the one sporting event, at which the sharps, the bookies and the public bettors are playing on an even field. There are no fancy models involved, or complicated analytics. We are all wagering based on rumors and educated guesses, basically.
Second of all, one of the most important things you can do if you want to bet on the NFL Draft, is create your own mock draft. That's the easiest way to see where you can find value in the Draft betting market. If you think Penei Sewell is going to the Cincinnati Bengals, then just take his Under 5.5 for the draft position, as he should be drafted at number 5. If you think Kyle Pitts is not going to the Atlanta Falcons or the Bengals, then just take his Over 5.5 for the Draft position. Having a mock draft for the first round is imperative when it comes to placing the right bets.
BET ON DAVIS MILLS TO GO UNDER HIS PROJECTED DRAFT POSITION
I love Davis Mills to go under his projected draft position. He opened at 73.5, then was almost immediately bet down to 68.5. Why? Because most GM's love what he brings to the table, based on the reports I have read in the last couple of weeks. He is a great play-action QB, and this profile is high in demand in the NFL, right now.
You have Lawrence, Wilson, Justin Fields, Mac Jones and Trey Lance which will most likely go in the first round. Then you have Davis Mills and Kyle Trask, as the best quarterbacks in the Draft, after the cream of the crop already found their teams. I actually think Mills is more ready for the NFL, than Trask. And the magical thing is that you don't need him to be drafted in the first round, for this bet to cash. You don't need him to be drafted in the 2nd round, either. As long as he is drafted early 3rd round at the latest, you cash the ticket. And I project Mills to be selected in the second round, by a team that wants to nurture a future elite QB.
Prediction: Davis Mills under 68.5 Draft Position @ 1.70 ($100)
BET ON KYLE PITTS TO GO OVER HIS PROJECTED DRAFT POSITION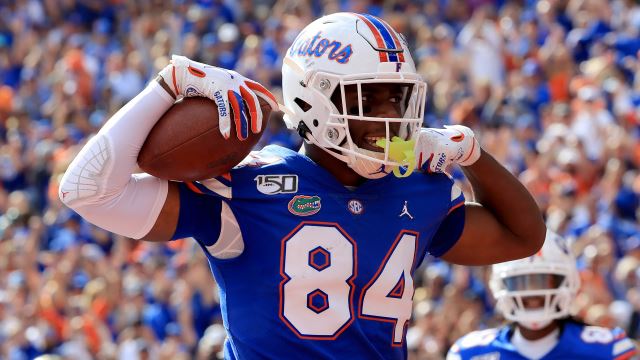 Kyle Pitts is an absolute monster, no doubt about that. If you ask me, he looks like one of the most talented Tight-Ends that will be drafted in the NFL, from the past decade. Incredible talent, who should have an instant impact in any offense he will enter. But despite all this, I don't think he will be drafted in the first 5 positions, this year.
First of all, you only have 2 places where Pitts can go to. The Atlanta Falcons, and the Cincinnati Bengals. And I don't expect either of these two teams to look for Pitts with their first choice in this year's NFL Draft. Both teams need to improve their defensive positions before looking at their offensive holes. That should be their priority. And even if they look to get an offensive player, I expect Ja'Mar Chase to be picked before Pitts by any of these two.  I expect Pitts to land in Miami with the Dolphins, at the #6 position.
Second of all, you have to understand that Tight-Ends almost never go in the first 5 spots in the Draft. They are simply not seen as important enough to be selected with such an important pick. Even if a team trades up with the Falcons at that #4 spot, they are not trading up to land Kyle Pitts. GM's can't really justify giving up important assets to trade up, and simply land a Tight-End. If Pitts would be drafted in the first 5 positions, then he will become the highest drafted Tight-End in history. It's hard to bet against history, and we are not doing that here. Take the over for Pitts.
Prediction: Kyle Pitts O5.5 Draft Position @ 2.66 ($100)
BET ON TREY LANCE TO GO OVER HIS PROJECTED DRAFT POSITION
I'm going to say it now: I'm not a big Trey Lance believer. I can kind of understand why his draft stock is so high, but at the same time I believe a lot of NFL teams used his name as a smokescreen, to hide their interest in other players. I am 99% sure that the San Francisco 49ers have been doing this in their latest reports.
Look, we just have to consult our mock draft projections for this bet. I don't expect him to go to the 49rs, as I am quite sure Mac Jones will be heading to California. I don't think the Falcons, or the Bengals are interested in a new QB this Draft. Not in the first round, at least. Cincinnati just drafted Joe Burrow last season, and the Falcons have way bigger issues with their roster, besides that QB position. They still have Matt Ryan on a healthy contract. Then you have Miami Dolphins at 6, which are definitely not looking for a QB after putting their faith in Tua last season. And at #7 we have the Detroit Lions who shipped Matt Stafford to the Rams in the off-season, only to acquire Jared Goff. They don't look like a team looking for a pet project at the QB position, either.
I think that we must understand one thing. The San Francisco 49ers gave up some important assets to get to that 3rd spot in the Draft. You don't give up those assets to draft Trey Lance, who literally came out of nowhere as a household name in this year's draft. The media, and the narratives seem to love them, but besides some positive tidbits here and there, we didn't see an overwhelming love from the NFL GM's for Lance, to warrant this high draft stock evaluation.
Please remember that Justin Fields was the consensus #2 player in this year's Draft, until Zach Wilson had an incredible end to the regular season with BYU, and a great bowl game. it's not that Fields played worse, it just happened that some other QB's improved their draft stock drastically with their performances. But Lance wasn't one of those players.
BET ON THE BALTIMORE RAVENS TO DRAFT A WIDE RECEIVER WITH THEIR 1ST PICK
I love this pick quite a lot, because it makes a lot of sense. This wide receiver draft class is historically great, if you consider the talent that will be available on the board tonight. The Baltimore Ravens need a wide receiver, an offensive lineman and a linebacker. The thing is, you will be able to find good offensive linemen and linebacker in the second, and even the third round as well. They are not in high demand in the first round this year, mainly because most teams are looking to improve their offensive positions.
You will have players like Terence Marshall, Kadarius Toney, Rondale Moore and Dyami Brown available on the board most likely, when it's going to be your turn to pick your first player. I find it very hard to believe that the Ravens won't be looking to improve their offense with one of those players, which can be considered cream of the crop almost. My personal pick is Terrence Marshall, if he is still on the board at that point.
Prediction: Baltimore Ravens to draft a Wide Receiver with their first Draft Pick @ 2.70 ($100)
BET ON RASHOD BATEMAN TO GO UNDER HIS PROJECTED DRAFT POSITION
You simply have to go back to 2019, when Rashod Bateman was the Big 10 "Wide-Receiver of the Year" in College Football, to understand what he can bring to the table. He is an absolute stud, and the right piece for so many teams that are looking to improve their offenses in the first round of this year's draft. And this bet is simply in line with what the bookies expect to happen in the first round, as well.
Almost everyone expects at least 5 wide receivers to be picked in the first round. It makes sense, as this class of wide receivers is simply outstanding when it comes to the talent involved. We know that Ja'Mar Chase, DeVonta Smith and Jaylen Waddle are the first 3 receivers that will be selected. They are the cream of the crop, no doubt about that. Then you have Bateman, if you ask me. And you expect the first 3 options, to be picked in the first 15 draft positions, this year. Then you have a huge gap, until number 29. No way Bateman isn't picked off the board, until then.
Between 15-29 you have the Miami Dolphins, the Chicago Bears, the Tennessee Titans, the Indianapolis Colts, the New Orleans Saints and the Baltimore Ravens, all looking for a wide receiver. I already mentioned above that I expect the Ravens to pick a wide receiver with their first pick. And they are at 27. If Bateman is still on the board then, I expect him to go to Baltimore.
Prediction: Rashod Bateman under 28.5 Draft Position @ 1.90 ($100)
If you're looking for more amazing betting content, you can follow me on Twitter: BetPlaya